The UFC continues to add fights to UFC 153 in Brazil and the newest edition to the fight card is a welterweight bout between former title contender Jon Fitch and Erick Silva.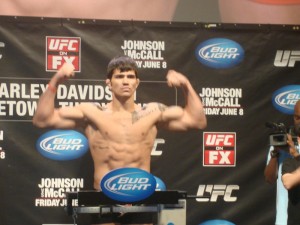 The bout was originally reported by Ariel Helwani of MMA Fighting on Twitter and Silva's manager has confirmed the report on Twitter.
Fitch (23-4-1, 1NC) has been recovering from a knee injury, which caused him to pull out of his UFC on FUEL TV 4 fight against Aaron Simpson.
He has only had two fights since February of last year and has gone 0-1-1 with the draw coming against B.J. Penn at UFC 127 and was defeated by knockout at UFC 141 against Johny Hendricks. Prior to his fight against Penn, he was on a five fight winning streak and he has gone 13-2-1 in the UFC.
Silva (14-2, 1NC) has won two of his three fights in the UFC and his only lost in the organization came at UFC 142, which he was disqualified for an illegal shot. After that fight, UFC President Dana White awarded Silva his win bonus for the fight.
His most recent win came at UFC on FX 3 against Charlie Brenneman by submission in the first round and White said in the post fight press conference that Silva would see a step up in competition in his next fight.
UFC 153 takes place on October 13th from the HSBC Arena in Rio de Janeiro, Brazil and the current fight card is below:
Jose Aldo (Champ) vs. Erik Koch – UFC Featherweight Title Bout
Alan Belcher vs. Vitor Belfort
Quinton Jackson vs. Glover Teixeira
Jon Fitch vs. Erick Silva
Rony Jason vs. Sam Sicilia
Cezar Ferreira vs. TBA
Sergio Moraes vs. Renee Forte
Reza Madadi vs. Christiano Marcello
Diego Brandao vs. Joey Gambino