The second preliminary fight at UFC on FOX 4 will be a featherweight bout as Manny Gamburyan takes on Michihiro Omigawa.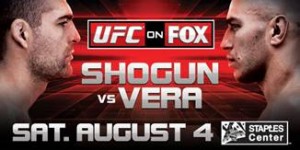 Both fighters enter this fight with a lost in their last fight and Gamburyan (11-7) may need a win to stay in the UFC, since he has lost three in a row.
Gamburyan was a finalist in the fifth season of "The Ultimate Fighter" and lost in the finals to Nate Diaz. After his lost to Diaz, he went 2-2 and decided to move down to featherweight after his lost at UFC 94. At that time, the UFC did not have a featherweight division, so he moved to the WEC.
He started 3-0 in the WEC featherweight division, which earned him a title shot against Jose Aldo. He was defeated by knockout at WEC 51 by Aldo and that fight started him three fight losing streak. His last two fights are decision losses with the defeats coming against Tyson Griffin and Diego Nunes.
Omigawa (13-11-1) in his second stint with the UFC has gone 1-3 during his recent stint. His losses have come against Chad Mendes, Darren Elkins and Yuri Alcantara. His lost against Elkins came at UFC 131 and UFC President Dana White announced after the fight that he would pay Omigawa's win bonus since he felt he won the fight.
His only win in his second stint with the UFC came at UFC 138 last November and he defeated Jason Young by unanimous decision.
Both fighter have a judo background with both having a black belt and Gamburyan recently said that he feels his opponent has good takedown defense and likes to brawl. He will be fighting in his hometown and his calling this fight the second biggest fight of his career.  With the recent fights between these two fighters, fans should expect to see this fight last all three rounds.