Phil Davis and Wagner Prado initially met at UFC on FOX 4 earlier this month and the fight was ended earlier in the first round by an illegal eye poke by Davis.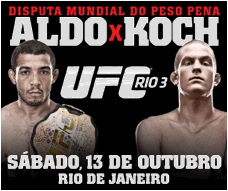 The bout was declared a no decision since the cage side doctor called the fight after looking at the eye of Prado.
The UFC was planning to have the rematch take place at UFC on FX 5, but the organization has announced the fight will now take place at UFC 153.
The bout was moved to this card after the card lost the middleweight bout between Vitor Belfort and Alan Belcher was scratched. Belfort was moved to the UFC 152 main event against Jon Jones and Belcher has a spinal fracture.
UFC 153 takes place from the HSBC Arena in Rio de Janeiro, Brazil and the current fight card is below:
Jose Aldo (Champ) vs. Erik Koch – UFC Featherweight Title Bout
Quinton Jackson vs. Glover Teixeira
Jon Fitch vs. Erick Silva
Phil Davis vs. Wagner Prado
Demian Maia vs. Rick Story
Rony Mariano Bezerra vs. Sam Sicilia
Gabriel Gonzaga vs. Geronimo Dos Santos
Diego Brandao vs. Joey Gambino
Gleison Tibau vs. Francisco Trinaldo
Renee Forte vs. Sergio Moraes
Chris Camozzi vs. Luiz Cane
Reza Madadi vs. Cristiano Marcello