During the post fight show on FUEL TV, Antonio "Bigfoot" Silva, Jake Ellenberger and John Dodson joined the show to talk about their wins last night at UFC on FX 5 in Minneapolis.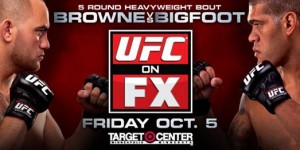 In the main event of last night's card, "Bigfoot" earned his first UFC victory and felt the pressure of having to win since he was on a two fight losing streak. He will fight whoever the UFC will put in front of him, but he would like another shot at Cain Velasquez, who defeated him earlier this year.
Check out what else "Bigfoot" had to say, plus Ellenberger and Dodson on their wins and what is next for them.