Yves Edwards was scheduled to take on Jeremy Stephens last night on the preliminary card of UFC on FX 5, but the fight never happened since Stephens was in jail.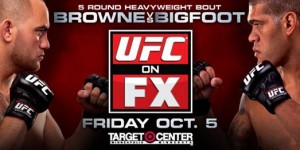 Stephens was arrested at his hotel room on Friday for an outstanding warrant in Iowa and was unable to get out of jail to compete on the fight card.
After the fight card was over, Edwards talked to Ariel Helwani on FUEL TV to give a timeline of events and how he found out about what was going on with his opponent.
"I got to the arena and saw the fight orders were changing," Edwards said. "I really did not know what was happening. My corner man Tyron Woodley knew what was going on, but he just tried to keep me focused, so he didn't tell me anything. Towards the end of the night, Dana (White) told me I appreciate you being ready but you are not going to be on the fight tonight and it's not going to happen."
Edwards was disappointed that he did not get a chance to fight last night after putting all of the work in over the past couple of weeks.
"It's one of those things where you put in all the work and for whatever reason it doesn't happen," he said. "I'm just kind of upset."
At the post fight press conference, White said that he paid Edwards his show money, which the MMA veteran appreciated. He plans to stay in shape and will be ready for the call on when the UFC wants him to fight next.