The Bellator Fighting Championships motto since the beginning is that title shots are earned and not given.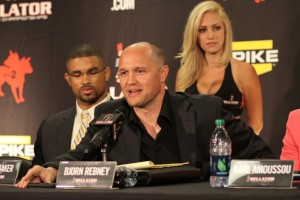 However, the organization has added a new clause to how did shots are given starting in 2013 as Bellator Chairman and CEO Bjorn Rebney announced on Monday that they will implement a championship rematch clause starting with the upcoming eight season.
"I am proud to announce that driven by your input," Rebney wrote on Bellator's website. "We will implement a championship fight rematch clause as we move into 2013 and our launch on Spike in January.  When a fighter's earned a shot at the world title by winning The Toughest Tournament in Sports and competes in a title fight that knocks fans like us back in our seats (win or lose) delivering an incredible fight, when a rematch is called for, we will deliver it.  Championship fights give us some of the greatest moments in MMA.  And, re-matches of incredible championship fights will give fans like us more of those electrifying moments, while staying true to the world's best fighters having had to earn their way to those title shots."
Bellator fans may end up calling this the Eddie Alvarez and Jay Hieron clause. Alvarez lost the Bellator lightweight title last year to Michael Chandler in one of the best fights of the year and Hieron lost a close split decision to welterweight champion Ben Askren.
Both fighters wanted an immediate rematch, but were told by the organziation that they would need to win a Bellator tournament to get another crack at the title. After not receiving an immediate title shot, Hieron has for his released and was granted his request. He ended up taking a fight with Legacy Fighting Championships and was signed by the UFC after that fight.
Alvarez is currently a free agent and Bellator will have the right to match any contract offer that the fighter receives. Rebney told TheMMAReport.com last week that he has not received an offer from the UFC for Alvarez, but it's expected for the UFC to make a formal offer in the coming weeks.
Whether Alvarez resigns with Bellator and gets an immediate shot at the Bellator lightweight title or signs with the UFC, this new clause that Bellator will implement is great news for any fighter that wins a Bellator tournament.