Junior dos Santos will look to become the first UFC heavyweight champion to successfully defend the title on two occasions since Brock Lesnar at UFC 155 when he takes on former champion Cain Velasquez.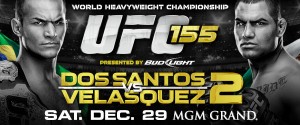 This will be a rematch of their 2011 bout, which Dos Santos won in 64 seconds by knockout at the inaugural UFC on FOX event.
Since winning the title last year, Dos Santos (15-1) has  successfully defended the title against former champion Frank Mir, which he won by TKO in the second round. It was his sixth victory by knockout in the UFC and his eleventh professional win by knockout.
Velasquez is a much different opponent than Mir and the champion knows the strengths of his opponent.
"Cain Velasquez presents a lot of problems for me," Dos Santos said. "His cardio is the best cardio in the heavyweight division. He got really good skills fighting in the stand up and I think the best thing is his wrestling skills and his ground and pound."
Velasquez (10-1) is coming off a brutal TKO victory over Antonio "Bigfoot" Silva at UFC 146, which he showed how good he is with his ground and pound.
The former champion is hoping for a different outcome in the rematch with Dos Santos. However, "Cigano" believes that the fight will last longer this time, but the result will be the same.
"I already think I am going to knock him out again," Dos Santos said. "It's going to be a little bit longer. Maybe the second or third round, but I think I am going to knock him out again."