Rad Martinez will be looking to win his fifth fight in the Bellator Fighting Championships tonight when he takes on Shahbulat Shamhalaev in this seasons featherweight tournament final, which headlines Bellator 83.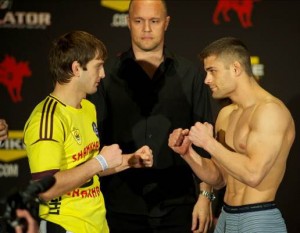 Martinez (14-2) entered Bellator in 2011 and won two fights before being entered into the season seven featherweight tournament. During the tournament, he holds decision victories over Nazareno Malgarie and Wagnney Fabiano.
Malgarie and Fabiano are both jiu-jitsu fighters, so he showed his improved striking game, which he received complaints from Bellator Chairman and CEO Bjorn Rebney about his improvements in his striking. Rebney said that he is seeing the same type of improvements in Martinez's striking as he saw in Michael Chandler as he was going through the Bellator lightweight tournament.
He will be facing a much different opponent tonight than he has faced in this tournament as Shamhalaev is a striker and both of his Bellator victories have come by knockout in the first round. Martinez describes his opponent as a "killer" and knows that Shamhalaev will be coming out and looking for a knockout.
"The first word that comes to mind when I think about Shahbulat Shamhalaev is killer," Martinez said. "He goes out there, swings hard, and knocks everybody out. He doesn't really press forward. He's more of a counter puncher. He likes for you to come to him and then he throws big power punches. Being a world champion kickboxer, he knows how to throw his punches to knock his opponents out. Heavy handed is a term that's a little over used in MMA, but you could definitely use it when it comes to him."
With Shamhalaev being a striker, the big advantage that Martinez will have in this fight will be his wrestling. Martinez admitted that he could not find much take of his opponent on his back and believes his opponent does not have a lot of experience with this in a fight.
"My wrestling should definitely be a big advantage in this fight with Shahbulat. There's not a lot of tape of him on the ground but I think that just goes to show that he doesn't have a lot of experience there. So I definitely think my wrestling is going to be my biggest advantage over him in this fight. I also think I'm going to be a lot bigger and stronger than him, and the fact that I just came off two three round fights might give me a mental advantage if we go into the later rounds."
Along with wanting to put his opponent on his back, Martinez would also like to test his cardio. Shamhalaev (11-1-1) has only gone to the third round three times in his career and his last four fights have either ended in the first or second round.
"I think my first task in this fight is to make sure to get Shahbulat into that second round to really test his cardio. First round wins are great but they don't really let you know where you're gas tank is at when the going gets tough out there, and I plan on making it a tough, long night for him."
How does Martinez see this fight going down? He says its simply going to go down one of two ways with one of the ways going his way and he wins this seasons tournament and he secures a title shot.
"I see this fight with Shahbulat going one of two ways. Either he catches me with something quick, or it's going to be a grueling battle with my arm raised at the end. I plan on going in there and making him feel uncomfortable as soon as possible in this fight. I'm going to grind him down, drag him into deep water and take it from him."