UFC officials today announced that Thiago Tavares (17-5-1) tested positive for steroids and Vitor Belfort (32-10) was allowed to use testosterone replacement therapy (TRT) for UFC on FX7.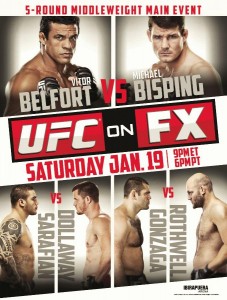 Thiago Tavares, who lost to Khabib Nurmagomedov, tested positive for the anabolic steroid drostanalone. Tavares has since been suspended for nine months, at which point he will not be able to return to action until he submits a clean sample.
Drostanalone is a very common anabolic steroid among athletes and bodybuilders as it helps maintain size-and-strength during the weight cutting process. This is also the same anabolic steroid that got Bellator fighter King Mo suspended back when he was fighting in Strikeforce.
Vitor Belfort, who won in dominant fashion over rising middleweight star Michael Bisping, was granted a therapeutic-use-exemption (TUE) for TRT prior to his fight.
According to the UFC, Belfort "Belfort has been on a medically approved TRT regimen under the supervision of a medical doctor from the State of Nevada, after being diagnosed with hypogonadism, or low testosterone. The purpose of a medically administered TRT regimen is to allow patients with hypogonadism to maintain testosterone levels within a range that is normal for an adult male."
Belfort did fail a test back in 2006 for hydroxytestosterone (anabolic steroid) and was suspended by the Nevada State Athletic Commission.
UFC on FX 7's drug tests were administered by an independent facility hired by the UFC. This was also the first fight card governed by the newly recognized Comissao Atletica Brasileira de MMA (Brazilian MMA Athletic Commission).
The remaining fighters on the card (22 in total) all passed tests following the event.