The ninth season of Bellator MMA will begin tonight at the Mohegan Sun Arena in Uncasville, Connecticut and the main card will be headlined by Alexander Shlemenko making his first middleweight title defense against Brett Cooper.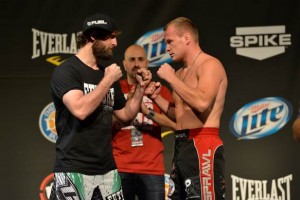 Tonight's fight card will begin at 6 p.m. ET/3 p.m. PT with the preliminary card on Spike.com and will feature a light heavyweight bout as Mike Mucitelli looks to remain undefeated and take another step to a spot in a future light heavyweight tournament as he meets Jeff Nader.
The main card will begin at 8 p.m. ET/5 p.m. PT on Spike TV and along with the title fight, the four opening round bouts of the season nine middleweight tournament will take place and a lightweight battle as Patrcky Pitbull looks to snap a two fight losing streak when he faces Derek Anderson.
Shlemenko (47-7) won the vacant Bellator middleweight title earlier this year and was initially booked to face season eight tournament winner Doug Marshall. However, Marshall broke his hand in training and Bellator used a new tournament champion replacement clause to give the title fight to Cooper.
Cooper (19-8) was a finalist in the season eight tournament and was defeated by Marshall at Bellator 95 earlier this year. The defeat snapped a six fight winning streak and it was his first lost since Bellator 44 when he lost a decision to Shlemenko.
Before the middleweight title fight takes place, the season nine middleweight tournament will begin with the opening round matchups being Brian Rogers (10-5) vs. Mikkel Parlo (9-1), Jeremy Kimball (10-3) vs. Perry Filkins (7-1), Jason Butcher (6-0) vs. Giva Santana (18-2) and Justin Torrey (9-0) vs. Brennan Ward (6-1).
Andreas Spang was booked to be in this tournament but he was pulled from the field when the Mohegan Tribe Department of Athletic Regulation announced that Spang this not pass his pre-fight physical and was deemed unable to compete. With Spang out of the tournament, Bellator decided to place Ward into the tournament, who was already booked for tonight's preliminary card.
The favorite for this tournament is likely Rogers as this is his fourth Bellator tournament. He has made it to the semifinals of the Bellator tournament on two occasions and this may be his last opportunity if he can not make a deep run in this tournament.
All of the fighters have shown the ability to finish fights in their career and all of the opening round bouts will likely end in finishes.
TheMMAReport.com will be on the scene tonight at the Mohegan Sun Arena and will have live coverage that will include photos from the fights and post fight videos including an interview with Bellator MMA Chairman and CEO Bjorn Rebney.