Bellator 103 took place on Friday night at the Kansas Star Arena and the main card featured Patricio Pitbull and Justin Wilcox winning by unanimous decision to advance to the featherweight tournament final.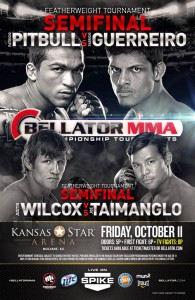 According to Nielsen sources, Bellator 103's preliminary viewership number landed at 539k total viewers, and has since increased 18% to 638k total viewers thanks to the live+3 DVR numbers.
This is first time since moving back to Friday's that Bellator failed to eclipse the 700k total viewership number for the live+3 DVR number. For more information on what this means and on Nielsen ratings in general, check out my article from earlier in the week here.
As a reminder, this adjustments was due to the live + 3 (DVR) numbers which will be released every Tuesday. For those new to Nielsen ratings terminology, live + 3 is a equal to a total of live viewership plus 3 days worth of DVR usage.
Stay with TheMMAReport.com for ongoing coverage of the Nielsen ratings battle between Bellator MMA and the UFC.