Glory 11: Chicago, debuted on Spike TV this past Saturday night featuring combat sports hybrid Tyrone Spong finishing Nathan Corbett and Rico Verhoeven defeating Daniel Ghita to win the Glory Heavyweight tournament.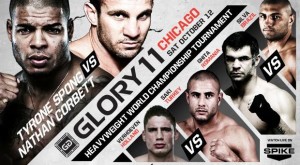 According to Nielsen sources, Glory 11: Chicago reached over 381k total viewers, with a peak number of 782k total viewers (1st qtr hour).
In other words, the show started high with viewership, and gradually tapered as the night went on.  It should also be noted, Glory's lead-in, like Bellator, was Cops, which drew a very large (for Cops) 1.446 million viewers with a 0.5 rating.
Honestly, the number is unreal given we really didn't have an expectation, but clearly the lead-in helped, especially when analyzing the viewership drop as the telecast went on.
In the past, Glory events were typically held on tape-delay very early in the morning on a network Nielsen really doesn't cover, in NBCSN.
When it came to the competition for the night, Glory's biggest issue was Nascar on ABC and the Red Sox and Tigers returning to the ALCS on Fox for game one.
According to Nielsen, Nascar drew over 5.19 million viewers and the Red Sox and Tigers game drew slightly higher with 6.36 million viewers. Clearly, separating themselves for the rest of the sports pack for the evening.
Going forward, it will be very interesting to see where Glory's bottom-and-top are. Unlike Bellator which follows a season-long series of ups-and-downs, Glory will not be on Spike TV again till the end of November for Glory 12: New York, which features a lightweight world championship tournament.
Stay with TheMMAReport.com for ongoing coverage of the Nielsen ratings in combat sports.