Bellator 105 took place on Friday night at the Santa Ana Star Center in Rio Rancho, New Mexico and the main card featured Will Brooks and Tiger Sarnavskiy advancing to the lightweight tournament final.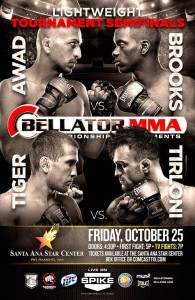 According to Nielsen sources, Bellator 105's preliminary viewership landed at 520,000 total viewers with a peak of 723,000 total viewers.  The peak for the live card came at the 9:13PM mark.
Comparatively, last weeks number landed at 615,000 total viewers, so down roughly 15% on the average.
It should also be noted that the 7:30 edition of Cops (1.094 million viewers) was in the top-100, but the 8:00 and 8:30 edition fell out of the top-100 and were under 1 million viewers. Something to consider when assessing the number this week.
When it came to the competition, Bellator's biggest challenge for viewership and demographic numbers was WWE's Smackdown (2.681 million viewers) and College Football on ESPN (1.968 million viewers).
Smackdown showed a slight increase for the go-home edition leading into the Hell in a Cell PPV and College Football was down slightly, with a less than stellar matchup on ESPN.
Stay with TheMMAReport.com for ongoing coverage of the Nielsen ratings battle between Bellator MMA and the UFC.