This past saturday's World Series of Fighting 6 event was televised live on the NBC Sports Network and Steve Carl defeating Josh Burkman for the inaugural welterweight title.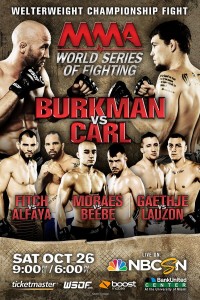 According to Nielsen sources, the preliminary overnight ratings (which will fluctuate since it was a live event) for the World Series of Fighting 6 hit a series low of 161,000 total viewers.
World Series of Fightings last event (WSOF 5) reached 227,000 total viewers, so this weekends show was down 29 percent.
When it came to the competition, game 3 of the World Series on Fox and College Football on ABC were top-competition for the WSOF.
Game 3 of the World Series, which ended in controversial fashion, excelled with a 11.59 (2.9 rating) million viewers and the ABC College Football game garnered a weaker, but still solid, 4.20 (1.1 rating) million viewers.
Once again, I sound like a broken record, but NBCSN did nothing to promote this card and to make matters worse it went head-to-head with the World Series, something that has a rough schedule in advance, so note exactly the smartest weekend. Of course, it is becoming harder-and-harder to find open MMA weekends, but I still feel like this card would have done better either on a different night or a different day altogether.
As always stay tuned for all the updated UFC, WSOF and Bellator television ratings right here on TheMMAReport.com