UFC Fight Night 30 took place this past Saturday on Fox Sports 2 and featured Lyoto Machida defeating Mark Munoz via head-kick knockout.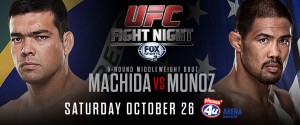 According to Nielsen sources, the preliminary overnight rating for UFC Fight Night 30 preliminary card landed at 122,000 total viewers.
This was the UFC's first live event on Fox Sports 2, so it is hard to really give this rating an evaluation. Not to mention, the card was on in the afternoon during major College Football action and the overall distribution of this channel is still minimal.
Comparing this to the last UFC Fight Night (29), the viewership is down 80 percent, 638,000 total viewers from a few weeks back.  Again though, Fox Sports 1 vs 2, distribution is not the same, so tough to really compare.
To no surprise, when it came to the competition, the UFC was head-to-head against numerous College Football match-ups that all had a tough time to garnering ratings including the Tennessee/Alabama game which was down 39% from last years game that coincided with the World series.
This was also the first week all-season that not one single college football game hit a preliminary 3.0 rating. Safe to say, this is probably due to the blowouts in most match-ups and the World Series, but again, something to look at when assessing the overall ratings throughout television for the day.
UFC Fight Night 26 still rules the world with a huge 1.78 million viewers and 1.38 in the 18-49 adult demographic rating.
Stay with TheMMAReport.com for ongoing coverage of the Nielsen ratings battle between Bellator MMA and the UFC.