An undisclosed injury has forced Karo Parisyan to withdraw from his fight against Cristiano Souza at Bellator 106, and replacing him in the bout will be Bellator newcomer Alejandro Garcia.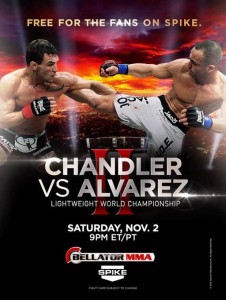 Bellator MMA officials announced the change on Monday and the new bout will be apart of the preliminary card on Spike.com.
Bellator 106 takes place on Saturday night from the Long Beach Arena in Long Beach, California and will be headlined by Michael Chandler defending the Bellator lightweight title against Eddie Alvarez.
Garcia (14-5, 1NC) will be making his Bellator debut and he has gone 8-1, 1NC in his last ten fights. His most recent fight took place in February when he defeated Roberto Vargas by knockout in the first round at King of the Cage: Restitution.
Souza (6-0) is an alum of Fight Master: Bellator MMA and this will be his first fight since the taping of the reality show. Prior to being on the reality show, he had won two straight fights in Bellator including a first round knockout victory against Robert Otani at Bellator 80.
The current Bellator 106: Chandler vs. Alvarez II fight card is below.
Main Card: (Spike TV – 9 p.m. ET/6 p.m. PT)
Michael Chandler (12-0) vs. Eddie Alvarez (24-3)
Muhammed "King Mo" Lawal (11-2) vs. Emanuel Newton (21-7-1)
Pat Curran (19-4) vs. Daniel Straus (21-4)
Joe Riggs (39-14) vs. Mike Bronzoulis (15-5)
Mike Richman (15-3) vs. Akop Stepanyan (13-6)
Preliminary Card: (Spike.com – 7 p.m. ET/4 p.m. PT)
Cristiano Souza (6-0) vs. Alejandro Garcia (14-5, 1NC)
Joe Williams (10-3) vs. Jesse Juarez (20-8)
Brandon Halsey (4-0) vs. Hector Ramirez (9-5-1)
Mike Guymon (14-6-1) vs. Aaron Miller (14-8)
Joe Camacho (13-18-3) vs. Cleber Luciano (8-5)
Darren Smith (4-3) vs. Josh Smith (8-5)