In West Midlands, England, Paul Daley lived up to his "Semtex" nickname as he knocked out Romario da Silva in the second round of BAMMA 14's main event contest.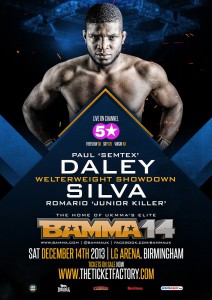 Thanks to an aggressive pace and solid footwork, Paul Daley was able to back da Silva up against the cage and connect with a brutal left hook that ended the fight.
The entire fight was dominated by Daley. He controlled the first frame of the fight with a stiff jab and outside leg kicks to keep his opponent at bay, and ultimately won the bout in the second.
Daley (34-13-2) now has his twenty fifth career knockout. Since 2012, Romario da Silva (23-12-1) has gone 2-3.
Barnaoui submits Fletcher to retain BAMMA title
Mansour Barnaoui retained his BAMMA world lightweight championship by submitting Colin Fletcher in the first round with a rear-naked choke.
Barnaoui locked up the choke after a back-and-forth start to the first round. The fight began with Barnaoui connecting with a barrage left-right straight exchanges, until both fighters got each other in a single collar tie and unloaded an array of heavy punches.
The fighter's separated, and Colin Fletcher dropped Barnaoui with a left-right combo. Instead of trying to finish the fight with ground and pound, Fletcher opted to attempt a d'arce choke. Barnaoui was able to slip out and latch on the fight-ending submission.
At 21 years old, Barnaoui is an interesting lightweight prospect as he extends his winning streak to three. Barnoui has now defeated a fighter with UFC experience in two consecutive fights. This is the first loss in Colin Fletcher's (9-4) four fight BAMMA career.
Wallhead knocks out Betorangal with a slam
Former Bellator fighter Jim Wallhead had the knockout of the night in his welterweight bout against Florent Betorangal. After stifling Betorangal with a right cross, Wallhead grabbed a single-leg and slammed Betorangal on his head, knocking him out in the third round.
A wild exchange of looping punches with bad intentions started the second round. Florent Betorangal was actually getting the better of the combinations, although he became too careless and allowed Wallhead to take him down. Wallhead was able to work from the half-guard position with short-paced strikes for a little over four minutes in the round.
The first round played out close as it was an even stand-up battle with each fighter hurting the other with a powerful right. Towards the end of the period, Wallhead took down Betorangal, but Betorangal was able to get back to his feet and pressure Wallhead against the cage as the round expired.
The KO win is the eight time Wallhead (25-8) has finished a fight in that fashion. Betorangal (14-9) drops to 1-3 in his last four fights with the loss.
Main Card (AXStv)
Paul Daley def. Romario da Silva via knockout (punch) – Round 2, 1:42
Mansour Barnaoui def. Colin Fletcher via submission (rear-naked choke) – Round 1, 4:00
Jim Wallhead def. Florent Betorangal via KO (slam) – Round 3, :21