Take a look back at the past seven days in mixed martial arts, which included fight cards from UFC and Legacy Fighting.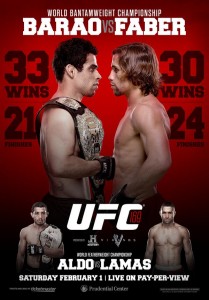 Along with looking back at the fights over the weekend, this week-in review includes the latest news, TV ratings, and fight announcements
The MMA Recap
1. At UFC 169 this Saturday, both Renan Barao and Jose Aldo were able to successfully retain their championships. Barao (32-1) dropped Urijah Faber (30-7) a couple of times with his powerful right hand in the first round and eventually finished the fight in the period, although the stoppage did appear to be premature. Aldo (24-1) was more patient with this title defense. Thanks to his leg kicks, striking, and a large dose of grappling, Aldo was able to clearly outpoint Ricardo Lamas (13-3) to win a 49-46 unanimous decision.
Also on the main card, Alistair Overeem (37-13, 1 NC) returned to his winning ways with a decision victory over Frank Mir (16-9). Overeem used his strength to put Mir on his back and land ground and pound throughout the fight. The question on whether John Lineker (23-7) would receive a flyweight championship shot with another win was put back on shelf as Ali Bagautinov (13-2) used a steady diet of takedowns in rounds one and three to take home a 29-28 unanimous decision. The highlight of the card was a fantastic, back-and-forth lightweight bout that ended with Abel Trujillo (12-5, 1 NC) knocking out Jamie Varner (21-9-1, 2 NC) with a right midway through the second frame.
All of the preliminary bouts ended with a decision, and the last one between Alan Patrick (12-0) and John Makdessi (12-3) was a controversial one. Personally, I felt as though Makdessi did enough in the latter two rounds on the feet to win those periods. In a two close battles between striking and wrestling, Chris Cariaso (16-5) used his striking to slightly outpoint Danny Martinez (16-5), while Nick Catone (10-4) employed his wresting to narrowly edge out Tom Watson (16-7).
Al Iaquinta (8-2-1) rebounded after being dominated by Kevin Lee's (7-1) grappling to secure the third period with striking to earn a unanimous decision. Clint Hester (10-3), Rashid Magomedov (16-1), and Neil Magny (9-3) also won decision on the prelims over Andy Enz (7-1), Tony Martin (8-1), and Gasan Umalatov respectively.
2. On the third episode of The Ultimate Fighter Nations, Canada improved to 3-0 with Chad Laprise definitively out-striking Chris Indich to win a two round, unanimous decision. Laprise joins Kajan Johnson in the next round of the welterweight bracket. Next week's episode will feature a heated match-up between two of the best middleweights on the show, Canada's Nordine Taleb and Australia's Tyler Manawaroa.
3. Legacy Fighting Championship 27 took place on Friday, and Tim Means (20-5-1) continued to look good since being released by the UFC. The welterweight won his second consecutive fight in the first round by strikes when he was able to hurt Artenas Young (10-7) with a knee and a left uppercut and then finish him off with a barrage of strikes.
Even though he missed weight, top flyweight prospect Henry Cejudo (6-0) was dominant in his 128 pound catchweight bout against Elias Garcia (4-1). Cejudo, a 2008 Olympics champion, used his wrestling to dominate Garcia with a plethora of explosive takedowns and slams in each round.
If you're going to seek out and watch one fight from the Legacy card, make it the first round of the Caio Machado (4-0) and Domingo Pilarte (3-1). It was frenetic first round that was like Diego Sanchez/Gilbert Melendez fight crammed into one period. Machado ended up winning the fight on the judges' scorecards.
The News
1. Chris Weidman's next championship defense has a time and place. He'll defend his middleweight strap against Vitor Belfort on May 24th in Las Vegas at UFC 173.
2. Since there were no submissions on the card, Abel Trujillo was only one to receive any award bonuses at UFC 169. He earned $125,000 for his fight and knockout of the night honors.
3. Michael Bisping, who has been hampered by an eye injury, was able to get medically, and his bout with Tim Kennedy at the TUF: Nations finale has been finalized.
4. Julianna Pena, the first ever female Ultimate Fighter winner, will be out of action for a significant period of time. Ariel Helwani has reported that Pena tore her ACL, LCL, MCL as well as a hamstring and a meniscus.
5. Earlier this week, it was announced that Pat Barry would step away from MMA. The announcement was made by Brian Butler who said "Pat and I have talked about this for a while now and with the recent changes in the landscape of combat sports, he wants to explore some options and try to get back to his roots."
6. The two finale bouts on the first season of The Ultimate Fighter China were announced. The conclusion of the welterweight tournament will pit Sai Wang against Lipeng Zhang, and the featherweight final is match-up between Jiaping Yang and Guangyou Ning.
Fight Announcements
UFC 170 – February 22nd
BW Bout: Aljamain Sterling (8-0) vs Lucas Martins (14-1)
TUF China Finale – March 1st
WW Finale: Sai Wang (6-4-1) vs Lipeng Zhang (6-7-1)
FW Finale: Jiaping Yang vs Guangyou Ning (3-2-1)
BW Bout: Nam Phan (18-12) vs Vaughan Lee (13-9-1)
UFC 171 – March 15th
W BW Bout: Jessica Andrade (10-3) vs Raquel Pennington (4-3)
FLW Bout: Justin Scoggins (8-0) vs Will Campuzano (13-5)
TUF Nations Finale – April 16th
MW Bout: Michael Bisping (24-5) vs Tim Kennedy (17-4)
LW Bout: Evan Dunham (14-5) vs Mark Bocek (11-5)
MW Bout: Kyle Noke (20-6-1) vs Patrick Cote (19-8)
LW Bout: Sam Stout (19-8) vs KJ Noons (12-7)
BW Bout: Mitch Gagnon (10-2) vs Tim Gorman (8-2)
UFC on FOX 11 – April 19th
HW Bout: Travis Browne (16-1-1) vs Fabricio Werdum (17-5-1)
UFC 172 – April 26th
FW Bout: Andre Fili (13-1) vs Max Holloway (8-3)
MFC 40 – May 9th
BW Title: Anthony Birchak (11-1) vs TBA
MW Title: Sam Alvey (21-5) vs TBA
LW Title: Tom Gallicchio (18-8) vs Kurt Southern (13-5)
UFC 173 – May 24th
MW Title: Chris Weidman (11-0) vs Vitor Belfort (24-10)
Ratings Report
The third episode of The Ultimate Fighter: Nations was 107,000 viewers. The low number had a lot to do with the episode airing on Fox Sports 2 instead of Fox Sports 1.
The UFC on Fox 10 drew 2.55 million viewers and the preliminary card had 713,000 viewers on Fox Sports 1.
Quick Results
UFC 169
BW Title: Renan Barao def. Urijah Faber via TKO (strikes) – Round 1, 3:42
FW Title: Jose Aldo def. Ricardo Lamas via unanimous decision (49-46, 49-46, 49-46)
HW Bout: Alistair Overeem def. Frank Mir via unanimous decision (30-27, 30-27, 30-27)
FLW Bout: Ali Bagautinov def. John Lineker via unanimous decision (29-28, 29-28, 29-28)
LW Bout: Abel Trujillo def. Jamie Varner via TKO (punch) – Round 2, 2:32
LW Bout: Alan Patrick def. John Makdessi via unanimous decision (29-28, 29-28, 29-28)
FLW Bout: Chris Cariaso def. Danny Martinez via unanimous decision (29-28, 29-28, 29-28)
MW Bout: Nick Catone def. Tom Watson via split decision (29-28, 28-29, 30-27)
LW Bout: Al Iaquinta def. Kevin Lee via unanimous decision (29-28, 29-28, 28-27)
MW Bout: Clint Hester def. Andy Enz via unanimous decision (30-27, 30-27, 30-26)
LW Bout: Rashid Magomedov def. Tony Martin via unanimous decision (29-28, 29-28, 29-28)
WW Bout: Neil Magny def. Gasan Umalatov via unanimous decision (29-28, 30-27, 30-27)
LFC 27
WW Bout: Tim Means def. Artenas Young via KO – Round 1, 1:38
128 lb. CW Bout: Henry Cejudo def. Elias Garcia via unanimous decision (30-27, 30-27, 30-27)
MW Bout: Larry Crowe def. Terrance Ferguson via unanimous decision (30-27, 29-28, 30-27)
LW Bout: Alex Black def. Charles Cheeks III via submission (triangle choke) – Round 2, 1:33
BW Bout: Caio Machado def. Domingo Pilarte via unanimous decision (29-28, 29-28, 29-28)
WW Bout: Kamarudeen Usman def. Steven Rodriguez via TKO – Round 1, 1:31