The Bellator middleweight title will be on the line next Friday night at the Pechanga Resort and Casino and the challenger, Kendall Grove made news on Tuesday as he is accusing champion Brandon Halsey of being a "juiced up guy."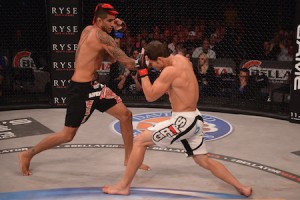 Grove made the allegations on various interviews yesterday during a media tour for his Bellator 137 fight against Halsey.
In an interview that will be part of Friday's The MMA Report Live, Grove started off by stating he is glad Halsey is looking past him and says his opponent next Friday night is a "juiced up guy."
"I am glad he is looking past me," Grove said. "I am a tough fight for everybody and I feel he is a one trick pony. He is a great wrestler, but I have fought better. I have been training with better wrestlers and on top of that, he is juiced out of his mind. I know for a fact. I am going to beat a juiced up guy and I am going to take that belt home to Hawaii. If he thinks he is going to walk right through me, I am stoked that he thinks that. This is his first five round fight and I am going to take him into deep waters. I hope his cardio is good. I hope his stand up is good and god bless him."
When someone makes this type of accusation, you can not help but wonder if this is a way to promote a fight or if there is evidence of the accusation. When asked how he knows Grove is a "juiced up guy," Grove explained that there is an email that proves it.
"Let's just say I have friends that use to train with him and he left an email open. In that email, there was like a chemist list of a bunch of sh-t that was address to him about how to cycle on and off. No way you can look the way he looks with all of those veins and stuff. F–k him. Piece of sh-t."
Grove would go on to state that Halsey is not the first "juiced up guy" he has faced in his career and he wanted to bring attention to this.
"At the end of the day, I am a fighter and I will fight whoever. He is not the first juiced up guy I have fought. If he did get popped, I would not be fighting for the belt. At the end of the day, I really don't care. I just wanted to bring it up. I know he is and the kid is like 27 and he is balding already."
With these comments, I am sure it has gotten the attention of California State Athletic Commission Executive Director Andy Foster. I would not be surprised if we learn that the commission plans to test both fighters by the end of the week.