WSOF 23 took place this past Friday night in Phoenix, Arizona and was headlined by Justin Gaethje retaining the lightweight title with a stoppage victory against Luis Palomino in the second round.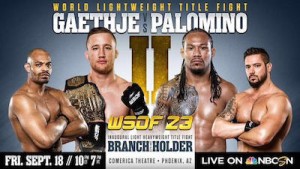 According to Nielsen sources, the preliminary overnight ratings for the WSOF 23 (10p-12:30a ET) event averaged 184,000 viewers and the replay (12:30a-3a ET) showing of the event drew an average audience of 100,000 viewers.
The viewership of Friday's card is down 27 percent from last month's WSOF 22 (254,000) and the complete history of the World Series of Fighting Television Ratings are below.
WSOF 1: 198,000
WSOF 2: 210,000
WSOF 3: 201,000
WSOF 4: 264,000
WSOF 5: 227,000
WSOF 6: 161,000
WSOF 7: 94,000
WSOF 8: 212,000
WSOF 9: 242,000
WSOF 10: 365,000
WSOF 11: 781,000 (Aired on NBC)
WSOF 12: 206,000
WSOF 13: 246,000
WSOF 14: 229,000
WSOF 15: 179,000
WSOF 16: 181,000
WSOF 17: 222,000
WSOF 18: 209,000
WSOF 19: 216,000
WSOF 20: 128,000
WSOF 21: 203,000
WSOF 22: 254,000
WSOF 23: 184,000
As always stay tuned for all the updated UFC, WSOF and Bellator television ratings right here on TheMMAReport.com