Bellator 144 took place on Friday night at the Mohegan Sun Arena in Uncasville, Connecticut and the card was headlined by Rafael Carvalho winning the vacant middleweight title with a TKO victory over Brandon Halsey.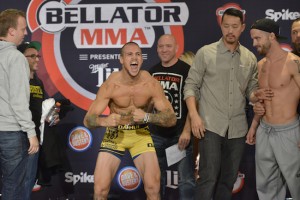 According to Nielson sources, Bellator 144's preliminary live average viewership landed at 555,000 total viewers and this is the lowest viewership for the Bellator product since Scott Coker took over as President of the promotion.
When it came to the sports competition, the Bellator card went up against the American League Championship Series Game 6 on FOX Sports 1 (5.6 million) and College Football on ESPN (1.2 million)
With the viewership from Friday night, the overall average for a Bellator event in 2015 is 757,000 viewers and the complete television history for Bellator under Scott Coker is below.
Bellator 122: 572,000
Bellator 123: 667,000
Bellator 124: 771,000
Bellator 125: 742,000
Bellator 126: 656,000
Bellator 127: 609,000
Bellator 128: 668,000
Bellator 129: 564,000
Bellator 130: 664,000
Bellator 131: 1.2 million *
Bellator 132: 767,000
Bellator 133: 565,000
Bellator 134: 872,000 *
Bellator 135: 607,000
Bellator 136: 655,000
Bellator 137: 594,000
Bellator 138: 1.6 million *
Bellator 139: 764,000
Bellator 140: 722,000
Bellator 141: 666,000
Bellator 142: 800,000 *
Bellator 143: 669,000
Bellator 144: 555,000
* – Tent Pole Event