UFC Fight Night 79 will take place next weekend in Seoul, South Korea and the new co-main event of the fight card will be a welterweight bout between Dong Hyun Kim and Dom Waters.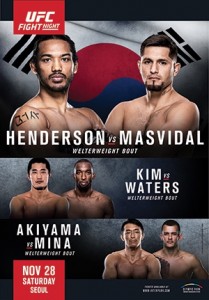 The fight card will come from the Olympic Park Gymnastics Arena on November 28 and the complete card will be streamed on UFC Fight Pass starting at 4:45 a.m. ET/1:45 a.m. PT.
The main card will begin at 8 a.m. ET/5 a.m. PT and will be headlined by a welterweight bout as former UFC lightweight champion Benson Henderson meets Jorge Masvidal.
The current UFC Fight Night 79: Henderson vs. Masvidal fight card is below.
Main Card: (Fight Pass – 8 a.m. ET/5 a.m. PT)
Benson Henderson (22-5) vs. Jorge Masvidal (29-9)
Dong Hyun Kim (20-3-1, 1NC) vs. Dom Waters (9-3)
Yoshihiro Akiyama (14-5) vs. Alberto Mina (11-0)
Hyun Gyu Lim (13-5-1) vs. Dominique Steele (13-6)
Preliminary Card: (Fight Pass – 4:45 a.m. ET/1:45 a.m. PT)
Doo Ho Choi (12-1) vs. Sam Sicilia (15-5)
Yui Chul Nam (18-5-1) vs. Mike De La Torre (13-5, 1NC)
Dongi Yang (12-3) vs. Jake Collier (9-2)
Tae Hyun Bang (17-9) vs. Leo Kuntz (17-2-1)
Seohee Nam (15-6) vs. Cortney Casey (4-2)
Yao Zhikui (2-3) vs. Fredy Serrano (2-0)
Ning Guangyou (5-2-1) vs. Marco Beltran (6-3)