The Ultimate Fighter 22 Finale took place this past weekend at the Chelsea inside the Cosmopolitan Hotel in Las Vegas and was headlined by Frankie Edgar defeating Chad Mendes by stoppage in the opening round.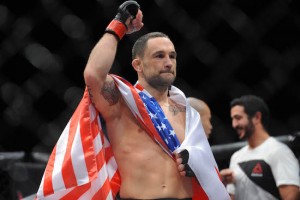 According to Nielson sources, the main card broadcast on FS1 had an average live audience of 883,000 viewers and the peak viewership for the event came during the main event with 991,000 viewers.
The main card viewership of 883,000 was down 11 percent compared to last fall's finale main card (989,000). However, the event was up 2 percent (552,000 vs. 539,000) in the Adult 18-49 demographic. It was also up 28 percent compared to the viewership of the Spring 2015 finale (691,000) and 42 percent better among Adult 18-49 (390,000). Peak viewership for the TUF Finale main card was 991,000 viewers for the main event at 1 a.m. ET.
Prior to the main card, the preliminary card was also showed on FS1 and came in with 803,000 viewers from 8-10p ET. The preliminary card had a 13 percent increases on both viewership (809,000 vs. 719,000) and Adult 18-49 demographic (463,000 vs. 409,000) in comparison to last fall's TUF Finale prelims. Compared to the Spring 2015 finale prelim card, the gains were 72 percent on viewership (vs. 470,000) and 87 percent among Adult 18-49 demographic (vs. 248,000).
Also this past Friday on FS1 was the UFC 194 Weigh-In show, which was the lead in to The Ultimate Fighter 22 Finale. The two-hour weigh-in broadcast started at 6 p.m. ET and averaged 294,000 viewers. Of the 294,000 viewers, 149,000 of them came in the Adult 18-49 demographic, more than doubling the viewership of the weigh-ins on the same Friday in 2014 (145,000) and nearly doubling the Adult 18-49 delivery (75,000).
The UFC will return to FS1 on Saturday for the televised prelims for UFC on FOX 17: Dos Anjos vs. Cerrone II and will feature a featherweight bout between Myles Jury and Charles Oliveira.