The UFC 195 Preliminary Card on FS1 took place this past Saturday night in Las Vegas and featured Michael McDonald scoring a submission win over Masanori Kanehara.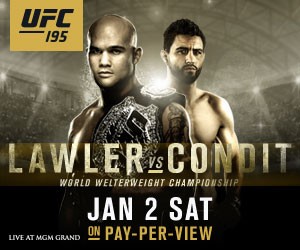 According to Nielsen sources, the UFC 195 preliminary card averaged 1,032,000 viewers and the peak viewership came in the 9:15-9:30 p.m. ET quarter hour with 1,244,000 viewers.
The viewership for the UFC 195 prelims was nearly even with last year's card on New Years weekend (UFC 182 – 1,039,000 viewers) and the number from Saturday is 10 percent above the average of UFC pay-per-view prelims to date on FS1 (937,000).
Prior to the televised preliminary card, the pre-fight show (7:39-8:00 p.m. ET) on FS1 averaged 252,000 viewers and following the pay-per-view, the post-fight show aired on FS1 (12:40-2:00 a.m. ET) with 152,000 viewers.
When it came to the sports competition on Saturday night, the night was won by the Alamo Bowl (TCU vs. Oregon) on ESPN with 7,414,000 viewers. The other top sports programming on Saturday was during the day with three bowl games on ESPN, which ranged from 3.6-7 million viewers.
The UFC will return to FS1 next weekend for UFC Fight Night 81: Dillashaw vs. Cruz. The weigh-ins will take place on Saturday from Boston and the televised portion of the fight card will begin at 8 p.m. ET/5 p.m. PT on Sunday.