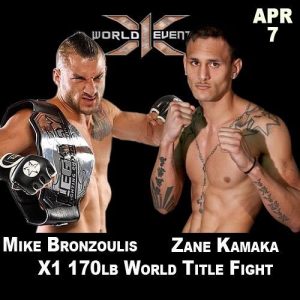 Zane Kamaka will be fighting for the X1 World Events 49 welterweight title on Saturday, April 7 as he will face Bellator vet Mike Bronzoulis on the fight card coming from the Blaisdell Arena in Honolulu, Hawaii.
Kamaka (11-3) has won back to back fights and is coming off a decision victory in a title fight against Chris Cisneros at Destiny MMA: Fight Night 2. Prior to the win over Cisneros, he scored a TKO victory over Jarel Askew at Destiny MMA.
I had an opportunity to speak with Kamaka on Thursday about his upcoming fight against Bronzoulis and in addition to previewing the fight, he spoke about his confidence level heading into this fight.