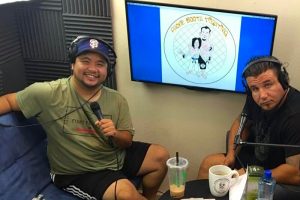 UFC 224 and Bellator 199 took place this past Saturday night and this week on The MMA Report Podcast, Jason Floyd and Daniel Galvan recap both events. Along with recapping those fight cards, Jason has conversations with Angelo Reyes, Daron Cruickshank, and Blake Bilder.
In the opening round of this week's podcast, Jason and Daniel discuss what happened last Saturday in Brazil at UFC 224 including the Raquel Pennington situation. After they gave their thoughts on that topic, Jason chats with Boxing/MMA coach Angelo Reyes to get his feelings on what happened with Pennington saying "I'm done" after the fourth round.
Following the conversation with Reyes, Jason and Daniel talk about everything else that happened at UFC 224. Then they turn their attention to Bellator 199 and break down everything that happened in California. From Ryan Bader's win in 15-second to the tremendous performance by Adam Piccolotti, Jason and Daniel recap everything that took place on the main card of Bellator 199.
Up next, Jason has conversations with Daron Cruickshank and Blake Bilder. Jason speaks with Cruickshank about his recent victory in Rizin and Bilder joins the podcast to discuss his career to this point. Following those interviews, the guys preview this weekend's UFC Fight Night 129 and discuss a couple of MMA news items including Yair Rodriguez being released by the UFC and former UFC champion Chuck Liddell announcing he's planning a comeback.
This episode is brought to you by the Good Cigar Company, your personal tobacconist. Be ready to celebrate when the occasion hits and Good Cigar Company is perfect for golf trips, weddings, and bachelor parties. Buying cigars shouldn't be intimidating and Good Cigar Company makes it easy. Go to GoodCigar.co and use the promo code "MMAREPORT" for 10% off any subscription.
Thanks for listening to this week's podcast and be sure to subscribe, rate, and review the podcast.
Follow The MMA Report on Twitter: @TheMMAReport
Like The MMA Report on Facebook: The MMA Report
Subscribe to the podcast on Apple Podcasts, Stitcher and Google Play