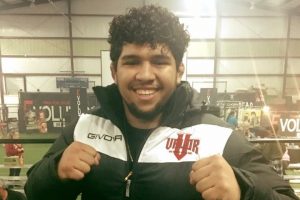 The tryouts for The Ultimate Fighter 28 will take place next week in Las Vegas and heavyweight Chandler Cole will be heading out west next week to attempt to get casted on the next season of the UFC reality show that will air this fall on FS1.
Cole (3-1) made his professional debut in May of 2016 and all of his wins have come by TKO/KO or submission. In his most recent fight, he defeated Dustin Dyer by submission in the second round at Valor Fights 45 in October and two of his three wins have come by submission.
On Monday, I had an opportunity to chat with Cole about his decision to try out for The Ultimate Fighter and he spoke about being a substitute teacher.