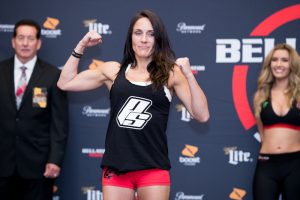 Valérie Létourneau will look to make her case for a title shot in the flyweight division tonight at Bellator 201 when she faces Kristina Williams.
Létourneau (9-6) was signed by Bellator last year and won her promotional debut in December with a decision victory over Kate Jackson at Bellator 191. The victory snapped a three fight losing streak and it marked her first victory since 2015 when she defeated Maryna Moroz at UFC Fight Night 74.
During this week's podcast, Létourneau was a guest on the show to preview her fight against Williams at tonight's Bellator 201 in Temecula, California.