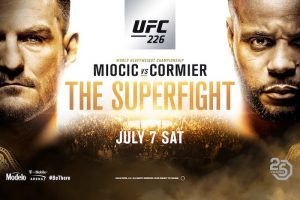 UFC 226 will take place on Saturday night from the T-Mobile Arena and Stipe Miocic will look to expand his résumé as the greatest UFC heavyweight champion of all-time when he takes on current UFC light heavyweight champion Daniel Cormier.
This fight has been labeled as a "super fight" by the UFC and I know there are some fans that have tweeted to me that if you call it a "super fight," it's not likely a true "super fight." With that being said, this fight will likely go down as one of the biggest UFC fights of 2018.
This fight will mark the 4th UFC heavyweight title defense for Miocic and this will be the first heavyweight fight for Cormier since 2013 when he defeated Roy Nelson by decision at UFC 166. During fight week, Cormier has noted that he's never lost a wrestling or MMA fight at heavyweight. However, Cormier has not faced a heavyweight like Miocic in MMA.
What intrigues me about this fight is two things: Can Cormier make history in winning a UFC title in two weight classes and will Miocic use his eight inch reach advantage effectively. Cormier does a tremendous job of coming forward and this is not the first time in his career that he will enter the fight with a large reach disadvantage.
If Cormier pulls out the victory, I believe it will be due to getting this fight against the fence and using his clinch. This is also where Cormier likes to get his takedowns. If this fight is at range, I just do not see Cormier being able to pull out the victory. I do believe this fight will go all twenty-five minutes and I look for Miocic to retain the UFC heavyweight title with a unanimous decision victory.
UFC 226 Pre-Fight Stats
– Stipe Miocic has the 10th most total fight time (2:26:39) in UFC heavyweight division history (Andrei Arlovski #1, 3:33:13)
– Miocic has the 5th best strikes landed per minute (4.75) in UFC heavyweight division history (Cain Velasquez #1, 6.49) – Minimum 5 UFC fights
– Miocic has the 6th best strike differential (+1.87) in UFC heavyweight division history (Cain Velasquez #1, +4.14) – Minimum 5 UFC fights
– Miocic has the 3rd best significant strike defense (63.5%) in UFC heavyweight division history (Jon Madsen #1, 81.4%) – Minimum 5 UFC fights and 350 strike attempts by opponents
– Miocic has the 6th most takedowns landed (23) in UFC heavyweight division history (Cain Velasquez #1, 34)
– Daniel Cormier has the 4th longest average fight time (13:30) in UFC light heavyweight division history (Dan Henderson #1, 15:13) – Minimum 5 UFC fights
– Cormier is tied with Wilson Gouveia for the 7th most submission attempts (7) in UFC light heavyweight division history (Renato Sobral #1, 15)
– Derrick Lewis has the 10th best significant strike accuracy (52%) in UFC heavyweight division history (Alistair Overeem #1, 72.5%) – Minimum 5 UFC fights and 350 significant strike attempts
– Raphael Assuncao has the 9th longest average fight time (13:06) in UFC bantamweight division history (Dominick Cruz #1, 21:00) – Minimum 5 UFC fights
– Assuncao has the 5th most most total fight time (2:24:06) in UFC bantamweight division history (Urijah Faber #1, 3:29:04)
– Assuncao has the 4th best significant strike defense (69.5%) in UFC bantamweight division history (Vaughan Lee #1, 71.5%) – Minimum 5 UFC fights and 350 strike attempts by opponents
– Rob Font has the 3rd shortest average fight time (7:20) in UFC bantamweight division history (John Albert #1, 4:24) – Minimum 5 UFC fights
– Font is tied with John Lineker, Michael McDonald, and Francisco Rivera for the 4th most knockdowns landed (5) in UFC bantamweight division history (Cody Garbrandt #1, 8)
– Font has the 2nd best strikes landed per minute (5.28) in UFC bantamweight division history (Thomas Almeida #1, 5.66) – Minimum 5 UFC fights
My UFC 226 Picks: Stipe Miocic, Francis Ngannou, Paul Felder, Michael Chiesa, Gokhan Saki, Paulo Costa, Raphael Assuncao, Lando Vannata, Max Griffin, Gilbert Burns and Jamie Moyle