Bellator 135 took place on Friday night at the WinStar World Casino in Thackerville, Oklahoma and the card was headlined by Marcos Galvao winning the Bellator bantamweight title with a submission victory over Joe Warren.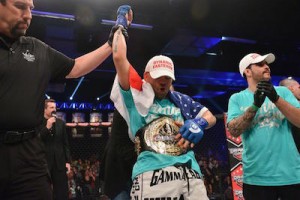 According to Nielsen sources, Bellator 135's preliminary live viewership landed at 607,000 total viewers and the peak viewership of the broadcast was 922,000 viewers.
When it comes to the +3 DVR numbers, the show average 677,000 viewers and peaked at 984,000.
On Friday night, the top cable programs were games in the NCAA Men's Basketball tournament on TBS. Both games had an average audience of over 4 million viewers and had a 1.29 and 1.50 in the Adult 18-49 demographic.
With the viewership numbers from Friday, the average viewership for a Bellator show under Coker is now at 708,000 viewers and below is the preliminary ratings average for all of the Bellator events that aired on Spike TV since Coker took over as President of Bellator.
Bellator 122: 572,000
Bellator 123: 667,000
Bellator 124: 771,000
Bellator 125: 742,000
Bellator 126: 656,000
Bellator 127: 609,000
Bellator 128: 668,000
Bellator 129: 564,000
Bellator 130: 664,000
Bellator 131: 1.2 million
Bellator 132: 767,000
Bellator 133: 565,000
Bellator 134: 872,000
Bellator 135: 607,000